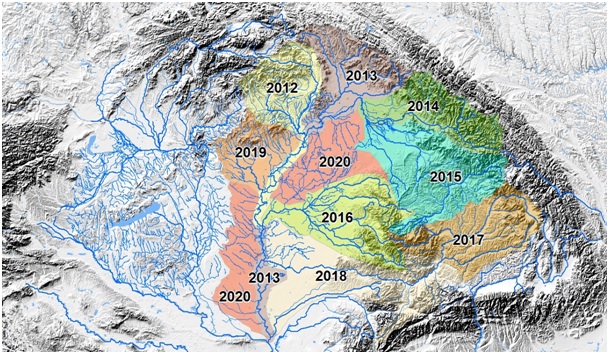 Centre for Ecology
DKI Tisza River research group
The primary task of the department is to study the taxonomic, coenological, ecological and physiological studies of the Tisza and its catchment area, to study the biotic impact of the climate dynamics and the water course, and the natural, past, present and future consistent investigation of the hydrological, hydrochemical, hydrobiological and landscape geographic consequences of artificial interventions and research on the biological material flow of the Tisza.
Research
Current Blog articles
A Vizes Élőhelyek Funkcionális Ökológiai Kutatócsport koordinálásában nagyszabású vízinövény (makrofiton) felmérés történt 2019-ben. A felmérés és mintavétel célja az volt,…
Olvass tovább
The János Bolyai Research Scholarship is awarded by the Hungarian Academy of Sciences to outstanding researchers (under 45 years of…
Olvass tovább
A Bolyai János Kutatási Ösztöndíjat kiemelkedő teljesítménnyel bíró fiatal (45 év alatti) kutatóknak adományozza a Magyar Tudományos Akadémia. A kiemelkedő teljesítményt…
Olvass tovább
Actual projects
KEHOP-1.1.0-15-2016-0002 Establishment of a research – method development – data collection program in the group of biological and chemical quality elements of the WFD, development of evaluation and data systems, filling professional gaps and performing the tasks of the ecological intercalibration procedure
To all projects
Researchers and staff
The research team attaches great importance to applied research on water-related major social issues, and thus plays an active role in responding to domestic and international water policy issues.
To all researchers